Fostering Innovation: Building an Ecosystem for a Thriving Innovation-based Economy
Published: Sep 12, 2023 4:08 AM
⋅
Updated: 4:08 AM
Malaysia has articulated a far-reaching vision to ascend into the ranks of the Top 20 most innovative nations on the global stage by 2030. Therefore, it is crucial to recognize that the journey toward innovation supremacy is an ongoing pursuit that transcends time and requires perpetual dedication. The consistent drive for innovation stands as the linchpin in unlocking numerous novel opportunities, addressing intricate challenges, and generating substantial value in this 21st-century landscape, marked by its rapid evolution and transformation.
Top In Tech Ep35: Fostering Innovation: Building an Ecosystem for a Thriving Innovation-based Economy discusses a deeper understanding of whether harnessing emerging technologies is the key to fostering innovation and driving transformative change in both business and society. This hybrid forum session was held in conjunction with Cyberjaya InnoEx 2023 featuring Kamarul Arifin Abdul Samad, Group CEO, Cyberview, Johnson Lam, Chief Innovation Officer, SOLS247, and Cha-ly Koh, Founder & CEO, Urbanmetry. The discussion was moderated by Karamjit Singh, CEO of Digital News Asia.

What is Fostering Innovation; Nurturing the Core
Johnson Lam, Chief Innovation Officer of SOLS247 responded by sharing "10 Years Malaysian Plan" the progress that has been made, and investments. "On the 11th, we are more into collaboration in the community. From SME perspective, we always learn and adapt from other countries. The relevance that we can implement is that the problem is on the ground. We have structured plans as we are more connected to the problem. To solve it, the missing piece is the platform, transparency of the system, or events to step up and apply what we learn and solve the problem". Hence, the key relevance that can be applied is recognizing that the core of the issue lies on the ground level.
Cha-ly Koh expressed her views on the ecosystem, describing it as less than supportive from her perspective. She emphasized that the government's primary role should be to establish the regulatory framework. She underlined the importance of not fearing failure, stating that assessing the risks associated with trying new ideas and accepting the possibility of failure is a critical aspect. She pointed out that the government often lacks this forward-thinking mindset.
Nurturing a Culture of Innovation through Collaborative Platforms
Later on, Johnson Lam delved into the cultural perspective, emphasizing the need to address and rectify this particular mindset. He suggested conducting a comprehensive round-up is a crucial step in this process. But the question remains: how can this be achieved? The answer lies in creating a platform where individuals can learn from each other's experiences, including their failures. Johnson stressed that people often struggle to adopt this mindset because they don't actively engage in problem-solving within their immediate surroundings. He shared his prior endeavors, where he attempted to cultivate innovators through a collaborative platform known as 'kaki repair,' aimed at tackling and resolving common issues, ultimately generating novel services
He also added that the government hesitates to proactively engage with the community. From a community perspective, many effective strategies have already been proven, but what we are lacking is a data-driven approach. Therefore, it is imperative that we foster greater collaboration.
This perspective finds support in Cha-ly Koh's statement: "Everybody possesses different sets of experiential data points, and they draw conclusions based on what has been proven versus what carries an inherent risk. Establishing a culture of risk-taking starts from leadership, much like having a 'sandbox' for budgets and write-offs. However, it can be challenging for young startups to pitch their ideas within such a framework."
Revolutionizing Education: The Case for Structured Hands-On Learning
Cha-Ly also shared insights regarding education perspectives, emphasizing the importance of cultivating a curiosity mindset. She noted that at a young age, it's essential to invest in encouraging children to ask unconventional or "bad" questions. She highlighted that our focus should shift from merely teaching kids to actively nurturing their growth and development
This perspective is further reinforced by Johnson Lam, who stressed the importance of structured, hands-on learning. He mentioned that not everyone falls into the category of being highly innovative or creative, and for many, following standard procedures is more effective. He advocated for a collaborative approach in the education system, where students learn from each other through activities such as play, innovation, and show-and-tell. The goal should be to bring real-world results and experiences into the classroom, and he emphasized the need to begin implementing these changes promptly.
Karamjit added that by likening innovation to fuel, emphasizing that the government's efforts to construct an innovation ecosystem are vital. He noted that there is growing awareness in this regard, making it imperative for all stakeholders to catch up with the rapidly evolving landscape of innovation.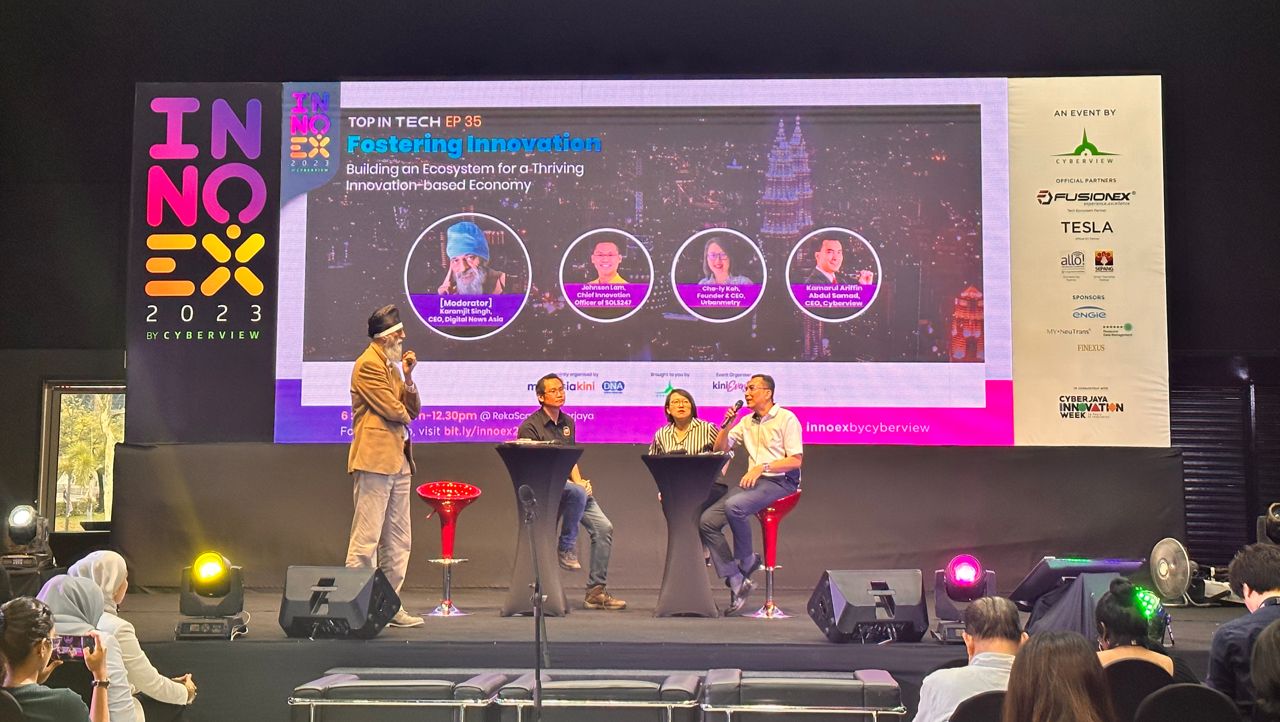 The event concluded with the closing remarks from Kamarul Arifin Abdul Samad, the newly appointed Group CEO of Cyberview, who delved into the mechanics of innovation within technology companies. He highlighted the importance of master planning for downshifting and the construction of technology. Notably, he mentioned how PIM (Product Information Modeling) has already become a standard practice. Currently, he focuses on EV charging readiness, which he believes will become a widespread trend. Kamarul emphasized the need to implement smart homes and explore alternative batteries, transitioning from lithium to sodium. He also mentioned their commitment to assisting startups in their commercialization journey through a one-stop center. Their ultimate goal is to bring deep tech innovations to other countries, making Cyberjaya a global hub in line with their mission.
Find out more about the discussion from the replay of Top In Tech EP35 Fostering Innovation: Building an Ecosystem for a Thriving Innovation-based Economy - Watch the Episode HERE